We operate a private taxi service. You do not share your vehicle with anyone else. Prices are based for group of up to 4 passengers. Maximum 4 people per taxi for any location in agadir.The price is per one whole car (in total for 4 passengers) and includes all taxes and fees.
The drivers will be waiting at the arrivals with card bearing your name on it. When leaving you will be met by one driver in your hotel reception area.
The procedure is as follows: you can book your airport pick up in advance, by mailing or calling us. A quotation will be emailed to you within 48 hours.
Service Taxi Transfers provides private cheaper transfers taxi and shuttle transfers from Agadir ( Al masira airport) or Marrakech ( Menara) airport to every city of Morocco. We also specialize in transfers and city transfers to and from the most popular ports for cruise clients..
Airport Taxi Transfer
Services:

Offers Great Service
With our airport transfers, if your flight is delayed or arriving earlier, even by several hours, your private shuttle will still be there to meet you Agadir Airport at No extra charge. We are tracking your flight online so you don't need to worry.
Excellent service

.
We were delayed for 4 hours and the taxi waited there. First Class service and would definitely use you again.
A very impressive service. The drivers were punctual, friendly and very helpful. We would definitely use this service again if we visit Prague in the future.
Specialized drivers

:
Offering chauffeur-driven vehicles with specialized drivers: door-to-door transport of passengers between Agadir bus station ; Agadir airport, Marrakech airport, Casablanca Airport and Agadir hotels or bus stations. To Agadir und Paradis beach und Agadir golfs, surf spots, souks und markets.
No surprise: The traffic jams will not make your bill a nightmare. Agadir airport taxi services has a lot to offer, keep your money for restaurants, hotels or city tours. A flat rate taxi transfer remains an easy and economical way to move door to door between your hotel and the airport. Please note that we also provide a private airport transfer from the 3 major airports to any of the following destinations : transfer to hotel or pick up and Agadir beaches.
Agadir Marrakech taxi transfer & airport shuttle with Taxi 735
Transfer from - to airport
Agadir airport Almassira
Agadir bus station
Marrakech airport Elmanara
Marrakech al medina (hotels)
Essaouira
Casablanca airport
Ouarzazat
Sidi Ifni
Transfer from - to Airport:
Taghazout
Tamraght
Agadir bus station
Marrakech
Marrakech Al madina
Essaouira
Ouarzazat
Casablanca
Paradis plages
Mirlef
Taroudant
Excursions
City tour
Marrakech 1 day
Marrakech 2 days
Essaouira 1 days
Essaouira 2 days
Taroudant ½ day
Taroudant 1 day
Tafraout
Imouzzer ½ day
Imouzzer 1 days
Paradis valée
Massa
Sidi ifni
Mirlef
Imsouan
Morocco Rounds Trips
Morocco surf trip
Tour of Agadir
Tour of the south of Morocco
"If you want someone else to navigate the streets for you, you might prefer to take a cab. Remember to remind the taxi cab driver to turn on his meter--they often "forget"--or you can negotiate a fare up front. If you need to go on group trips between cities, try a Grands taxi, which are inexpensive and can be found in each region of Morocco."
Private airport taxi
Transfers and shuttle service
Agadir and Marrakech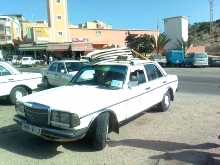 Easy booking a taxi transfer in Agadir, Essaouira and Marrakech Morocco
Agadir (Morocco) taxi services offer three options to suit your budget
Agadir (Morocco) Airport Transfers is a private airport taxi service that gives you a quick and easy way to get to and from Agadir and Marrakech Airport (airport al massira ) or (Menara airoport ) with the minimum of fuss. No need to put up with the hassle of public transport, or the risk of being overcharged by street taxis. Our airport transfer service is a convenient, reliable, cost-effective way for you and your luggage to get between the airport and your destination.
Agadir (Morocco) taxi 735 services offer three options to suit your budget: if you are travelling on a tight budget consider our shared shuttle services. For those who don't want to wait around, try our private transfers.
Whichever option you choose, our chauffeur will be ready and waiting to greet you. We track arriving flights online, so even if your flight is delayed or arrives early, we'll be there for you.
Where do I meet The driver ?

Taxi transfer and shuttle Agadir Marrakesh and Essaouira:
Airports taxi transfers service:
We offer executive and standard transfers all over morocco, specialising in airport collection.
Especially from Agadir Al Masira airport, Marrakech Menara airport and Essaouira airport to all resorts in morocco.
Taxi service for cruise passengers:
We provide too shuttle and low cost transfers from any port of Morocco. Take the time to really explore the old city, and Berber villages. Book the low cost taxi transfer for cruise passenger, from Marina port of Agadir port to visit and explore the city's of Taroudant, Marrakech, Essaouira, Imouzzer.
Golf transfers & private excursions:
We can be booked golf transfers, trips & private excursions. If you want to save money you can use our shuttle taxi transfer service.
Agadir Taxis provide too both individuals and travel agents with a comprehensive range of international transfers, from airports, to airport, harbours and resorts via taxi or minibus. Taxi service available 24 hours 7 days.
Taxi 735 Services can arrange any type of airport taxi transfer for any party size to all cities of Morocco.
Taghazout Biz
A.M @ All rights reserved 2006