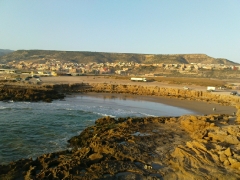 Tamraght cheap accommodation

Tamraght
Taghazout, Tamraght, Aourir (Awrir), village of bananas), Imsouane , Aghroud, Tigert, and Tamri. Berber villages of fishermen, located on the coast of the Atlantic Ocean north of Agadir. and on the road Agadir-Essaouira. Tourist villages with visitors all year round. You can practice all kinds of sports: golf, horseback riding, hiking, quad, jet skiing, surfing, paramotor. These villages also sounds very familiar beaches and mountains of Argan.
Tamraght private services: Accommodation, rent car, taxi transfers, surf hostel
Tamraght is a quiet village of Morocco (between Aourir and Taghazout, 12 km from Agadir, 40 min of the airport, 165 km of Essaouira) and around the sea (500 m). In the village there are shops for daily needs, surf shop, residential and guest house; most houses have beautiful terrace and sea view, the more tranquil than taghazout and aourir.
Aourir (awrir): (07 km taghazout, 10 km from Agadir, 38 of the airport, 172 km of Essaouira. There are more shops, a weekly market (laarba n'awrir) and Tajine restaurants. The Road (Route honey) to Immouzzer Idawtanan and paradise valley.

The famous fishing village of Tamraght ouzddar. You'll find, surf camps, holiday apartments coffee, pubs, restaurants, camping, surfing schools, home massage, shopping and beautiful beaches. Distance: 48 km from the airport. Taxis and buses for all directions. Activities: Quad, surfing, swimming, riding, sailing, golf, fishing, horseback and camel walk.
Aghroud is perfectly situated near all beaches an surfs spots . Only 10km from Taghazout and 29 km from Agadir and the airport 57 km. This region is a surfers paradise, with waves ranging from the advanced surfer to the beginners.

Taghazout Biz
A.M @ All rights reserved 2006